CLUSTER OF SPACES
Team: Gabrielė Ubarevičiūtė, Giedrius Mamavičius
Site: 12 000 m2
Size: 18 500 m2
Program: Hotel with Conference Centre and Lyceum
Location: Vilnius, Lithuania
Status: Competition, 2nd Prize
Year: 2019


The historical maps excluded the plot as a public space. While after the war the city grew and perimeter blocks wrapped around, this tiny plot preserved its distinctive scattered urban structure to the present.
Instead of another perimeter block fencing off the site, we proposed to break the hotel program into 5 small scale volumes forming an old town like cluster. Relocating the hotel podium to the underground allowed to create porosity for public access in a delicate old town context.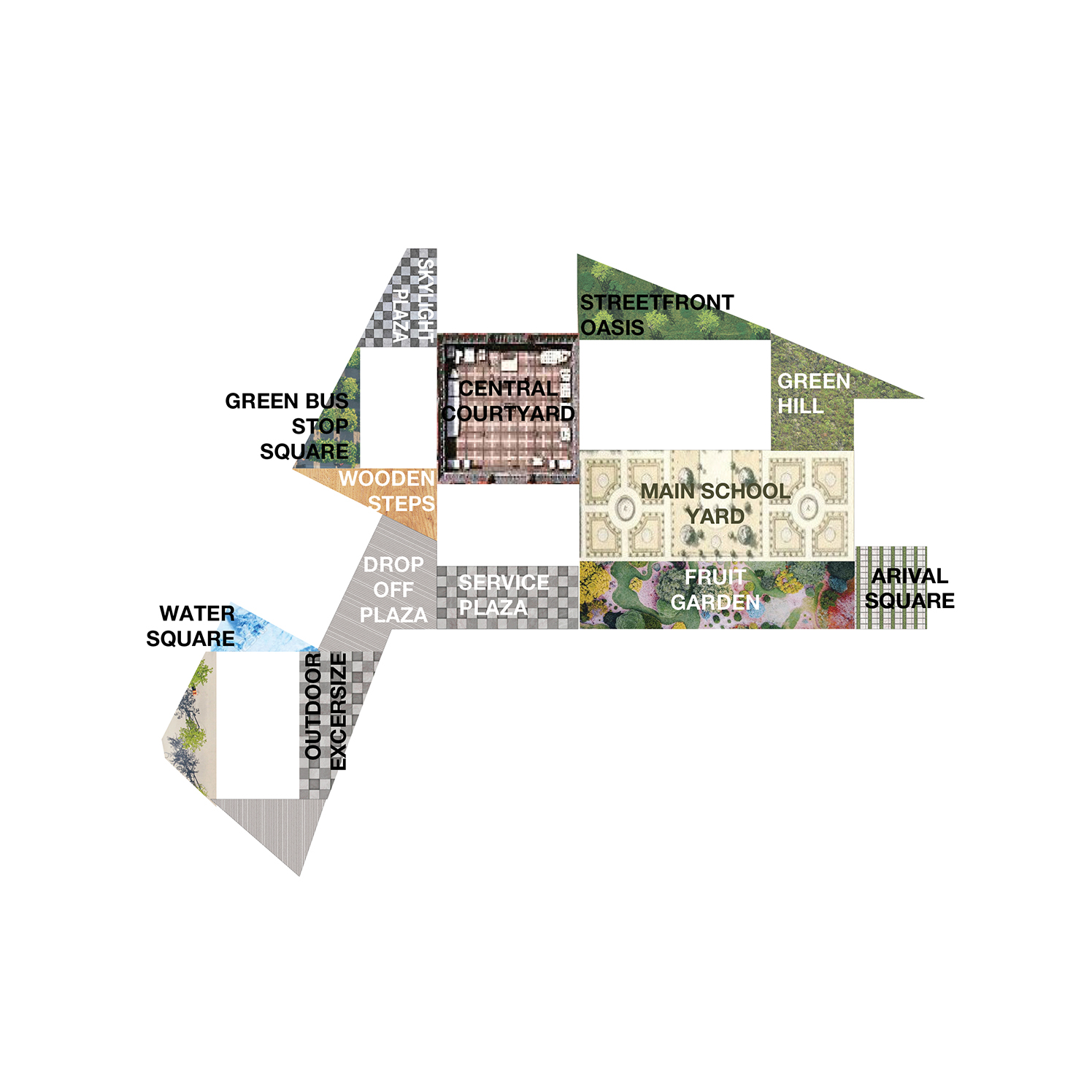 Liberated ground plane resulted
in a cluster of indoor and outdoor
spaces, filled with dievrese
programs and activities, creating
a vibrant public destination in
the city.
The lyceum program, allocated to the existing heritage buildings aims not to disturb the intrinsic qualities of the complex. Adding most of the communal spaces underground, only a few new volumes puncture through the ground. Those volumes are rather objects, compact pavilions than actual buildings.
Through centuries St. Jacob's quarter with monastery, church and a hospital was as if an island in a surrounding context. The historical maps excluded the plot as public space, which from being one of the only cultural complexes in the underdeveloped suburban area of Lukiškės, maintained its significance within the centre of later expanded Vilnius. While the city grew and perimeter blocks wrapped around, this tiny plot of land was left almost untouched preserving its distinctive scattered urban structure.

St. Jacob quarter located on one of the most prominent public space axis in central Vilnius is a critical node to keep the chain intact. Framed by closed perimeter blocks on two sides the plot sits right in a middle between Lukiškės square and Neris river-front. Therefore instead of fencing off the inner courtyard with another perimeter block we propose to treat it as an open and accessible public space.

Inheriting the unique urban structure of St. Jacob hospital complex combined of four separate buildings the new extension aims to turn an otherwise passive introvert program of hotel and school into an extrovert cityscape. Instead of a homogeneous building blocking the ensemble of St. Phillip and Jacob church, we proposed to create a cluster of spaces. A collection of small scale, old-town like, diverse plazas and buildings intertwined together and extending each other. . The complex that frames and creates an intimate background for the heritage of baroque architecture. St. Jacob's cluster is an open structure of indoor and outdoor spaces, becoming the new destination in Vilnius, which in the future would smoothly complement the developing conversion of Lukiškės prison and surrounding public program.